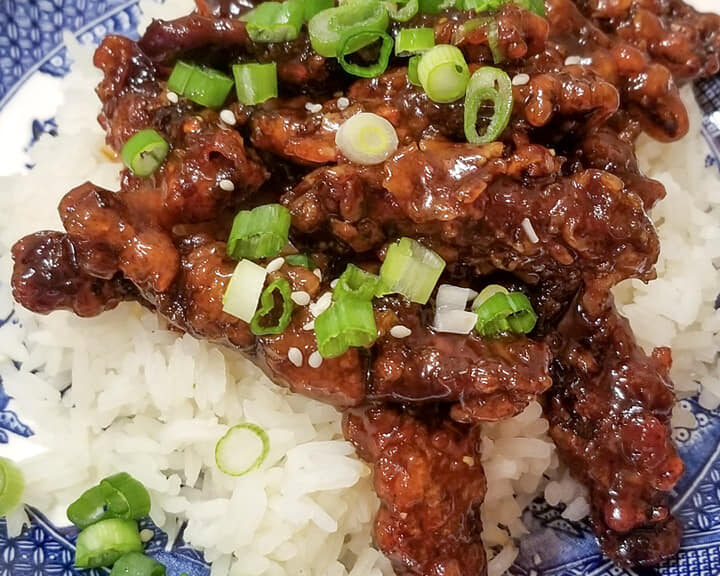 Sweet & Sticky Crispy Beef
Sweet & Sticky Crispy Beef
We made this Sweet & Sticky Crispy Beef recipe from Pups with Chopsticks recently and it was AMAZING!! It is absolutely AMAZING. It is a bit of work, but it is totally worth it. The first time we made this we did not have potato starch so I used corn starch and it was plenty crispy that time. This time we used potato starch and it was even more AMAZING! I hope you give this a try!

Edit: Funny Story time – Also the first time I made it I misread the cornstarch slurry ingredients… It kept getting thicker and thicker like some crazy kind of glue. I kept saying, "something is very wrong"… it looks nothing like the photo… what is wrong with this sauce.
And then I realized… I had used 5 TABLESPOONS of cornstarch. Moral of the story: Pay attention to your measurements, lol! We scraped off the sauce and ate it anyway. The second time I did it right and it was much better.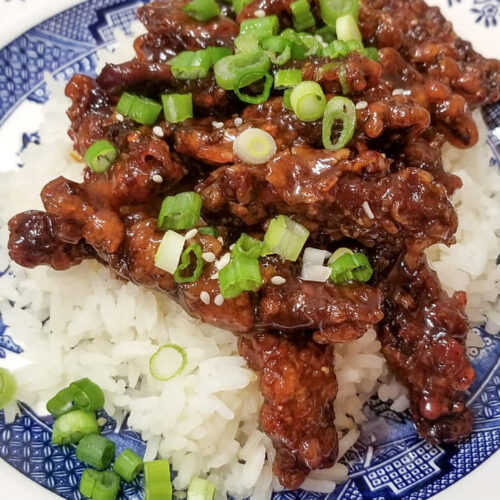 Sweet & Sticky Crispy Beef
A delicious crispy beef in a sweet and sticky sauce.
Ingredients
1.5

Pounds

Top Sirloin Steak, sliced into 1 cm strips.

(any type of beef steak works)

1

C

Potato Starch, divided in half

(cornstarch works but won't be as crispy)

Oil for frying
Marinade
1

Onion, small, diced

4

cloves

Garlic, minced

1.5

inches

Ginger, sliced into 1/8" sliced

1

T

Soy Sauce, special dark
Sauce
3/4

C

Honey

1/4 C + 2 Tbs

Soy Sauce, special dark

1/2

C

Water

1

T

Hoisin Sauce

1.5

T

Mirin (or Shaoxing cooking wine)

1

T

Sesame Oil
Slurry
5

tsp

Cornstarch

6

tsp

Water
Garnish
Green Onions, sliced into rings

Sesame Seeds

Any fave nuts, chopped

(We like cashews or peanuts.)
Instructions
Slice the steak into 1 cm wide strips and place it in a bowl.

In a food processor, blitz the onion, garlic, and ginger until it is a paste – or SUPER finely chop everything.

Add the marinade and 1 tablespoon of soy sauce to the beef and mix well and marinate it in the fridge for 1 hour(or 20-30 minutes at room temperature). 

After the beef has marinated, dust ½ cup of potato starch (or corn starch) on the beef and use your fingers to loosely coat the beef with it. Let it sit for 10 minutes. Once the beef has marinated for 10 minutes, dust the other ½ cup of potato starch (or corn starch) on the beef again to lightly re-coat the beef and lightly dust off any excess starch. Deep fry it immediately.

Deep fry the beef for 1-2 minutes, and remove it from the pot onto a plate with paper towels and drain. Once all the beef has been cooked once (first fry), add all of it back in for the second deep fry for1 more minute and then remove and drain.

Remove all the oil from the pot and heat pan on med heat.  Add in all the sauce ingredients,except the slurry.  Stir until everything is combined well and wait until it comes to a low rolling boil.  In a small bowl, combine the corn starch and cold water to make a corn starch slurry and add it into the sauce and keep stirring until the sauce has thickened.
Notes
 (adapted from https://pupswithchopsticks.com)